The purpose of this publication is to keep our community up-to-date with news & important updates, as well as provide information about how we serve the Catholic community, the history of our cemeteries, introduce our staff, see featured nature & wildlife, and more.
The first edition of A Guiding Light was published August of 2021. Subscribe to receive future issues and other correspondence from us!
Introduction by Archbishop Shelton J. Fabre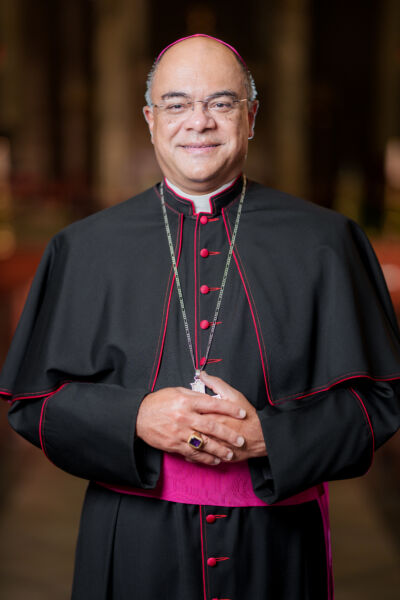 Dear Sisters and Brothers in Christ,
Our Catholic burial grounds have a special place in our hearts and minds as people of faith. These grounds are held as sacred places by the Catholic Church and the faithful. Our burial grounds hold the mortal remains of family and friends awaiting the Resurrection.
The Church expects those who have been baptized as Catholics to take full advantage of the Order of Christian Funerals. These rites include: prayers at the time of death and thereafter, a wake service allowing time for prayers and support, a Mass of Christian burial celebrated for both the living and the dead, and burial in a Catholic Cemetery as the final resting place for those who have fallen asleep in Christ. The Catholic Cemeteries also welcomes family members from other faith traditions; those who were together in life should not be separated in death.
Each visit to a Catholic Cemetery is a reminder of the love, fellowship, and faith that we have shared with our deceased family members and friends. Each cemetery visit is also a reminder of Jesus Christ's promise to everlasting life.
Death as seen through the eyes of a Christian is not the end; it is simply a natural passageway to everlasting life. Burial in a Catholic Cemetery is a statement of continued belief in that everlasting life, even in death.
In today's changing and uncertain world, the Catholic Cemeteries will welcome and serve you and your family. Remember to state your preference for a Catholic Cemetery when planning funeral services.
Devotedly yours in Christ,

Most Reverend Shelton J. Fabre
Archbishop of Louisville