The purpose of this publication is to keep our community up-to-date with news & important updates, as well as provide information about how we serve the Catholic community, the history of our cemeteries, introduce our staff, see featured nature & wildlife, and more.
The first edition of A Guiding Light was published August of 2021. Subscribe to receive future issues and other correspondence from us!
Introduction by Archbishop Joseph Kurtz
Dear Sisters and Brothers in Christ:
May God's blessings be with you! I am pleased to introduce this e-newsletter prepared by our Catholic Cemeteries Office.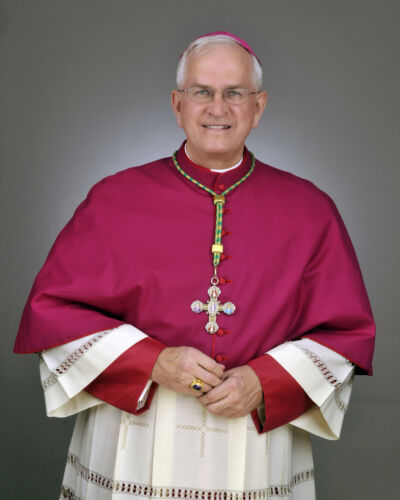 One of the very noble and religious gestures has been the proper remembrance and care of those who have died. Our Catholic Church calendar each November begins with the Feast of All Saints followed by the Feast of All Souls. Our convictions about eternal life and of the dignity of every human being, body and soul, remind us how important it is to care for the remains of our deceased loved ones.
Some have said that we live in an age in which our concern for this life has been so great that we run the risk of forgetting our loved ones and of neglecting our prayers for those who have died and have gone before us. May this newsletter be an occasion to cultivate the proper respect and reverence for those who have died and the proper care for their burial places. May it also acquaint each of us with the Catholic teachings that ensure our deep understanding and embrace of eternal life and our care for the remains of those who have died.
For many decades, these convictions have led the Archdiocese of Louisville to provide for dignified places of burial, and so I join you in saluting our Catholic cemeteries and all who serve each day to provide proper care for our deceased loved one. With this electronic newsletter, we will have the opportunity to benefit from regular communication about the ministry provided by our Catholic cemeteries. I thank Javier Fajardo, director of the Catholic Cemeteries Office, as well as his staff, for the wonderful care that we too often take for granted.
Most Reverend Joseph E. Kurtz, D.D.
Archbishop of Louisville